You signed up for Twitter! You learned how to log in! But you forgot
the password your daughter set up for you
your password. Don't panic! I'll show you how to recover it.
You might have already tried to log in to Twitter. If you haven't, but know you forgot your password, open your browser and visit
www.twitter.com
.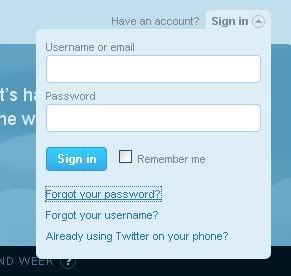 Following similar lessons from logging in, click the blue box at the top right of the screen. After suffering the indignity of a log in, or recognizing that you've forgotten your password,
click FORGOT YOUR PASSWORD?
Twitter will direct you to the above page. You will need to
type your e-mail or Twitter username
.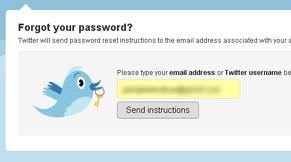 Click SEND INSTRUCTIONS
.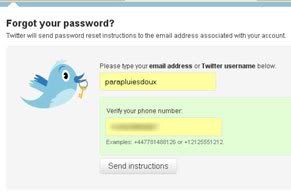 Twitter might ask for your phone number, too. Since I've provided my phone number to Twitter, I had to provide my phone number. (Providing your phone number will enable you to Tweet from your phone.)
Enter your phone number
. Click SEND INSTRUCTIONS.

Twitter will let you know if your information is on file. If not, you won't see the above confirmation and will be asked to provide your information again.
Check your e-mail. A message from Twitter with information for resetting your password should arrive soon. Follow those instructions to reset your password.